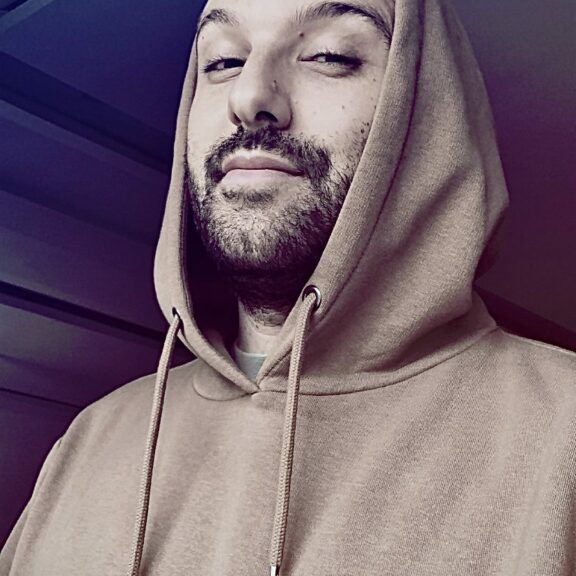 I am producer, podcaster, author with an expertise of +10 years in the field of audiovisual production. Ten years that I now use as a "Freelance Creative Consultant" for all types of projects (audiovisual, writing, subject research, podcasts) and all types of clients (entrepreneurs, agencies, content creators, independent directors, professionals and amateurs, scriptwriters, copywriters).
At the dawn of my thirties, I became a father while battling two cancers that transformed my personal and professional life. With my content, I take you inside the head of an imperfect claimant, a notorious serial pessimist and an eternally curious person.
Freelance Creative Consultant,

what is it exactly?
A profoundly human digital boost.
During my career, I've been lucky enough to meet experienced professionals who gave me feedback on the content I was creating. Mentors who helped me to become more professional, improve the quality of my video content and gain confidence in my abilities. Unfortunately, this opportunity is not given to everyone. That's why I want you to benefit from my 10+ years of expertise in the creative field.
All content creators – authors, podcasters, videographers, entrepreneurs, web designers, graphic designers, writers, copywriters, etc. – want to take a step back from their creative projects.
You wish you could take a step back from your creative projects, but often you don't have the time to do so. Or you just don't have the mental space to do it. I've been there too.
I offer you the opportunity to take a productive break, to inject fresh blood into your projects.
Choose your ideal formula.
1 session of 30 minutes to take a step back and allow you to clarify your creative project, quite simply.
1 session of 60 minutes to address all your blocks and take concrete steps to improve your project.
1 x 120 minutes OR 2 x 60 minutes to discuss in depth, take concrete steps following a detailed plan.
I have been writing since I was eleven years old. My first writings were poems, rap lyrics and thoughts safely kept in a diary that will fortunately never leave the four walls of my room. Then, I wrote online funny stories about my personal experience, before throwing myself in the deep end a few years later , by writing scripts, commercial projects and documentaries. This led me to write my first book "The music that comes from my heart" (French) in 2022.
In these mood posts on my blog, there is a mishmash of memories, personal stories or short fictional stories that allow me to maintain my storytelling practice. Follow this link to see all the articles.